In one way or another, every Aussie business is being impacted by Covid-19. But what about the real estate market? Social distancing has changed the way people view houses, when and why they might want to move, and then there's the increased uncertainty.
After six months of coronavirus in Australia, what does the data show and what does it mean for you?
The data
CoreLogic data shows house prices were down across Australia's five major cities from August to September¹.
Victorian prices were down by 0.8% for the month of September, as the effects of the lockdown were felt. Compared to the same time last year, Melbourne's property prices dropped by a significant 2.9%, while there was a smaller drop in Sydney of 0.2%. But there were some uplifts in Brisbane, Adelaide and Perth.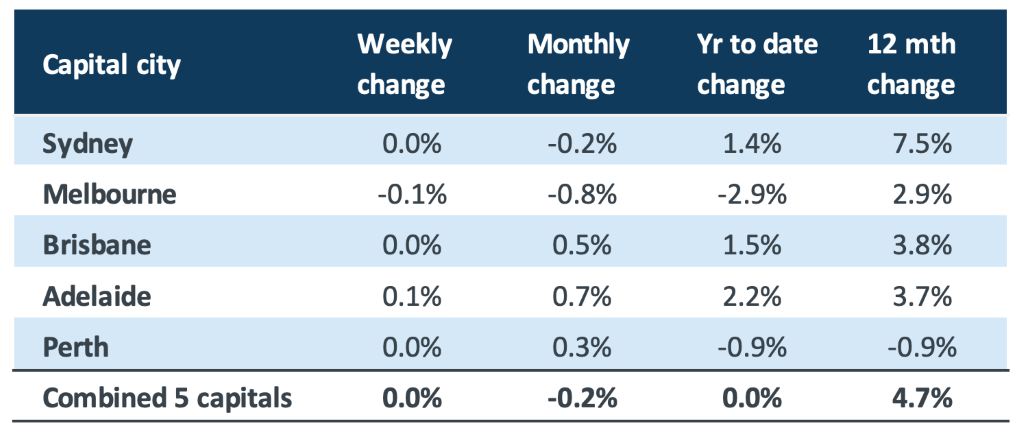 If we look at the past 12 months data, combined five-city prices are up 4.7%, led by Sydney (+7.5%). Brisbane was up 3.8%, on par with Adelaide's 3.7% increase. Melbourne saw a 2.9% increase and Perth was the only capital to see a decline, down –0.9%.
Sydney is still the most expensive city to buy in, with an average house price of $815,000 – more than $75,000 more than the closest competitor, Canberra. Next highest was in Melbourne with $650k. But despite the prices, sales are still moving. Sydney has had nearly five times more sales than Melbourne, but that may be about to change.
Signs of change
There are, however, a lot of promising signs for the real estate market. As restrictions ease in Victoria, listings have increased. Domain reported over a 240% increase in properties listed in the first week of October compared to March this year², and Victorians are now able to arrange one-on-one inspections – a new freedom which many are taking advantage of.
The federal government is also lending a hand by extending the First Home Loan Deposit Scheme, adding an additional 10,000 places to stimulate the economy and support construction. Australians looking to buy their first home can secure one with as little as 5% deposit. Assistant treasurer and housing minister Michael Sukkar said, "The Morrison government is committed to doing all we can to help Australians get into their own home". But there is a catch – applicants will only be able to apply for the scheme on the condition they are purchasing new builds and price caps will also apply.
For those thinking about selling, there are plenty of people looking to buy. Across the country, real estate agents are reporting record high sales and short market times because there are more active buyers than sellers. If you're looking to sell, Spring 2020 is a great time for you. (Read more)
What next?
It's hard to say with certainty what the next few months will bring. The impact of Covid-19 has been widespread and is continually evolving. But our efforts to adapt have been impressive, as the Corelogic and Domain data have shown. Areas with greater restrictions have been more heavily impacted, but the market is moving forward with some predictability.
James Ledgerwood, of Ray White Double Bay, says "It's hard to crystal ball what's going to happen, things are changing nationally and globally every day during the pandemic. But the residential housing market has been relatively stable during that time."
For more information on how we can help you make your next move, contact one of our team members today on 1300 932 738 or by clicking here.
Sources:
CoreLogic Property Market Indicator Summary, week ending 4 October 2020
This article is provided for general information purposes only. Its content is current at the date of publication. It is not legal advice and is not tailored to meet your individual needs. You should obtain specialist advice based on your specific circumstances before taking any action concerning the matters discussed in this article.